Construction and Scaffold/Ladder Accidents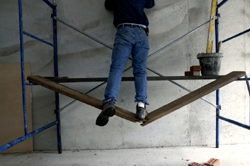 Sections 240 and 241 of the New York State Labor Law protect accident victims in many falls. The reason for the law is because many serious injuries and deaths result from falls at construction and work sites. In certain types of construction accidents the law imposes strict liability, which means the worker can recover damages no matter who was at fault. The lawyers at Brady & Goldberg are intimately familiar with the New York State Labor Law, including Sections 240 and 241 and are prepared to fully protect your legal rights. Section 240 (1) of the Labor Law deals with ladder and scaffolding accidents, including the erection, demolition, repairing, altering, painting, cleaning or pointing of a building or structure. It requires commercial building owners or agents (including apartment owners) to ensure that scaffolding, hoists, stays, ladders, slings, hangers, blocks, pulleys, braces, irons, ropes and other devices are properly used and maintained and that any worker or person employed is protected. Section 241 (6) of the Labor Law deals with construction, excavation and demolition work, requiring the work to be properly constructed, shored, equipped, guarded, arranged, operated and conducted to provide workers and others who frequent the area with reasonable and adequate protection.
---
If you or a family member have been involved in a construction accident, you should retain an experienced construction accident attorney who is familiar with New York State Labor Law to provide you with the best possible representation and advice regarding your claim. For construction accidents in Westchester County (including New Rochelle, Mount Vernon, Yonkers and White Plains) and the surrounding counties as well as New York City, please contact us by calling the law offices of Brady & Goldberg (914) 690-0800 or (800) 441-5995 for a Free Consultation to discuss your case.