Mark Edward Goldberg: New York Personal Injury Lawyer
Mark Goldberg is a graduate of Binghamton University and the Benjamin Cardozo School of Law, where he was a member of the Moot Court Honor Society Board. During law school, he was the Assistant to the General Counsel of Brooks Fashion Stores in New York City. Upon graduation, he became an Associate Attorney for the law firm of Bruce Somerstein & Associates.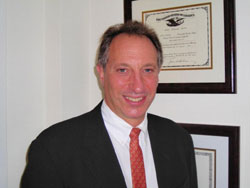 In 1985, he opened his own law firm specializing in personal injury and commercial leasing. He has been on the board of directors of Cache, Inc. and a member of the Board of Managers of Park Plaza 3, LLC and Southwest Shopping Centers Co. III, LLC. His professional memberships have included the New York State Trial Lawyers Association, American Trial Lawyers Associations, New York State Bar Association, American Bar Association, New York County Lawyers Association, Westchester County Bar Association and the Port Chester/Rye Bar Association. He is admitted to practice law in New York State and the Federal Courts of the Eastern District and Southern District of New York. Mr. Goldberg has been practicing personal injury law for over 25 years, handling more than 3,000 cases with millions of dollars in awards. Mr. Goldberg is married with a daughter. He is also an avid tennis player and was a member of the International Board of Directors of the Israel Tennis Centers.
---
Contact Us Today For a Free Case Review!
For more information about our New York personal injury lawyers, call

(914) 690-0800 or 800-441-5995

for a Free Consultation contact us to discuss your case.