Bicycle Accidents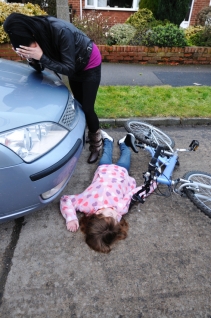 It can happen in an instant – a car or taxi comes out of nowhere and hits a bicyclist.
Brady & Goldberg
, we represent bicyclists injured by motorists who fail to:
Stop at stop signs
Yield right of way in crosswalks
Stop on red before turning right
Slow down on yellow
Account for bicycle riders
Getting knocked to the pavement can cause serious head, neck, and back injuries. Even though you might feel a little sore at first, it sometimes takes three days or more for the full scope of a muscle or ligament injury to become apparent. By then, if you've agreed to an insurance offer, you might find your injuries require more medical attention – treatment which exceeds the amount of money you've settled for. Don´t take chances – protect your rights and get the legal information you need.
Brady & Goldberg
represent bicycle accident clients throughout the New York City boroughs, as well as people in Westchester, Putnam, and Rockland County. We offer
Free Consultations
and evening and weekend appointments.
---
While many injuries suffered in car accidents are very serious, drivers at least have the benefit of being protected by the safety mechanisms in their cars. Air bags, seat belts and the steel structure can protect a driver from harm, but bicyclists don´t have these protections. As a result, they often experience serious personal injury when involved in collisions. If you have been involved in a bicycle accident, the team of experienced trial attorneys at The Brady & Goldberg law office can help. We are dedicated to helping accident victims receive full and fair compensation for their injuries — even the most serious injuries, such as head injuries, traumatic brain injuries (TBI), back injuries and lost limbs. Contact Brady & Goldberg today at (914) 690-0800 or (800) 441-5995 for a Free Consultation to discuss your case.