Surgical Malpractice Attorneys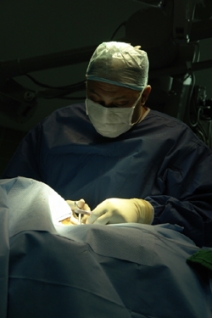 Surgical Malpractice is a surgeon's failure to exercise the degree of care and skill that a surgeon of the same medical specialty would use under similar circumstances. There are many types of surgical specialties including:
Bariatric Surgery
Cardiac Surgery
Cardiothoracic Surgery
Colon & Rectal Surgery
General Surgery
Gynecologic Surgery
Maxillofacial Surgery
Neurosurgery
Obstetrics
Oral Surgery
Orthopedic Surgery
Otolaryngology (Ear, Nose & Throat)
Pediatric Surgery
Plastic Surgery:

Cosmetic & Reconstructive Surgery

Thoracic Surgery
Transplant Surgery
Trauma Surgery
Vascular Surgery
Many different specialties are involved in surgery besides the specialty of the doctor performing the surgery. There are anesthesiologists (control of anesthesia during surgery to prevent pain as well as coma or brain damage); infectious disease specialists; pathologists; and a variety of nurses as well as other medical professionals that perform diagnostic testing and lab work.
If you have been a victim of surgical malpractice, or you have a loved one who has been a victim of a surgical error, you should contact a surgical malpractice attorney as quickly as possible. Not only might you be entitled to a reimbursement of medical expenses, but also for compensation for future medical care, loss of income and pain and suffering. Surgical malpractice laws are in place to protect patients from poor care at the hands of trusted medical practitioners. Whether you have been mishandled in a cosmetic surgery, medically necessary surgery or an injury treatment, you deserve to trust your doctor and be given the best care possible.
---
If you believe that you are the victim of medical malpractice please contact the medical malpractice attorneys at Brady & Goldberg today by calling (914) 690-0800 or (800) 441-5995 for a Free Consultation to discuss the medical treatment you received in Westchester County (including New Rochelle, Mount Vernon, Yonkers and White Plains) and the surrounding counties as well as New York City.